As per interim results released last week, CTC's contribution to State revenue in the form of Excise Tax, Corporate Tax and other levies rose by 12% to Rs. 49 billion.
The increase according to CTC was "driven primarily by higher prices as a result of the Excise-led price increase experienced in October 2015 and relatively stable volumes during the first six months of 2016."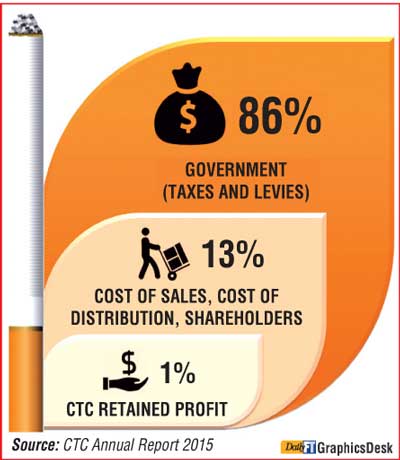 In the first half of 2015, revenue rose by 18% to Rs. 43.7 billion over the corresponding period of 2014.This was on the back of a 10% volume increase in the second quarter of 2015.
As opposed to over 80% taxation, the Government, as part of its anti-smoking drive, has announced moves to increase it to 90%.
Currently taxation on cigarettes in Sri Lanka is the third highest in Asia whilst CTC's value addition is near 90%. In 2015, CTC's Value Added to the State via excises and taxes was a staggering Rs. 91.6 billion, up by 24% from the previous year. The 2015 value amounted to 7% of the State's total tax revenue and 88% of the value generated by CTC.
In a statement accompanying interim results, CTC said law enforcement agencies continued to effectively curtail the spread of unauthorised and illicit tobacco products. A total of 811 raids uncovered 2.5 million illegal cigarettes at a market value of Rs. 88 million during the first six months of 2016. However, under-regulated and low-taxed products such as 'Beedi' still remained a key threat to Government revenue from the tobacco industry.
The company said it remained committed to investing in its premium brands such as Dunhill and Benson & Hedges with a predominant focus on infusing value into the mainstream brand John Player Gold Leaf.
CTC's profit after tax stood at Rs. 6.11 billion for the six months ended 30 June 2016 up from Rs. 5.5 billion a year earlier. Gross revenue rose to Rs. 15 billion from Rs. 13 billion. The CTC Board has recommended a second interim dividend of Rs. 16.70 per share to be paid by 30 August 2016.
The company also said its flagship CSR initiative, the Sustainable Agricultural Development Program (SADP), continued to focus on alleviating poverty and empowering the livelihoods of families in rural Sri Lanka. The total number of families supported by the company as at June 2016 stood at 18,464, comprising 71,285 beneficiaries in 16 districts.
Source: http://www.ft.lk/article/561629/Govt--revenue-from-CTC-up-12--to-Rs--49-b-in-1H#sthash.Gz6kiVID.dpuf